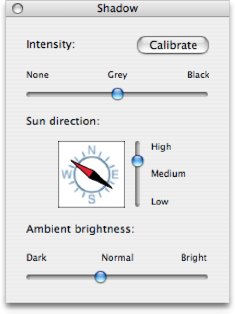 The lighting and shadow palette.

Custom trees
Each tree built is unique, so if you don't like it you can simply generate another of the same type until you find your perfect specimen. Once you have settled on your tree, everything can be customised. You can change the leaf style and colour, import your own photographs to be used as bark texture, vary the wind from still to gale force and even customise the lighting and shadow. Of course you can view your tree from any direction you choose.
Little Stick can save trees as movies, pictures and 3D models in a large range of formats so that you don't have to worry about file translation problems. Alpha layers are produced for each tree to aid image editing.



Trees are exported with an alpha layer.